Wellness
Revive your body, relax your mind and release your stress
Wellness at Cala de Mar is entwined with ancient Mexican traditions, unique local rituals and the latest wellness techniques, immersing our guests into a world of ceremony for body and soul while indulging the senses. We offer the most outstanding Wellness program in the area designed for the well-being of body and mind as well as for guests who enjoy keeping up with their exercise regimen during their vacation.
Spa
​Sculpted from a rocky cliffside just steps from the Pacific Ocean, Cala de Mar Resort & Spa Ixtapa's enchanting seaside spa draws inspiration from ancient Aztec healing traditions as it pampers spa-goers with the latest wellness techniques. From the heady scents of toronjil that linger in the air, to the soft chimes that play on the ocean breeze, to the inspiring views of sand, sea and sky, the Spa at Cala de Mar is designed to awaken all the senses.
Slideshow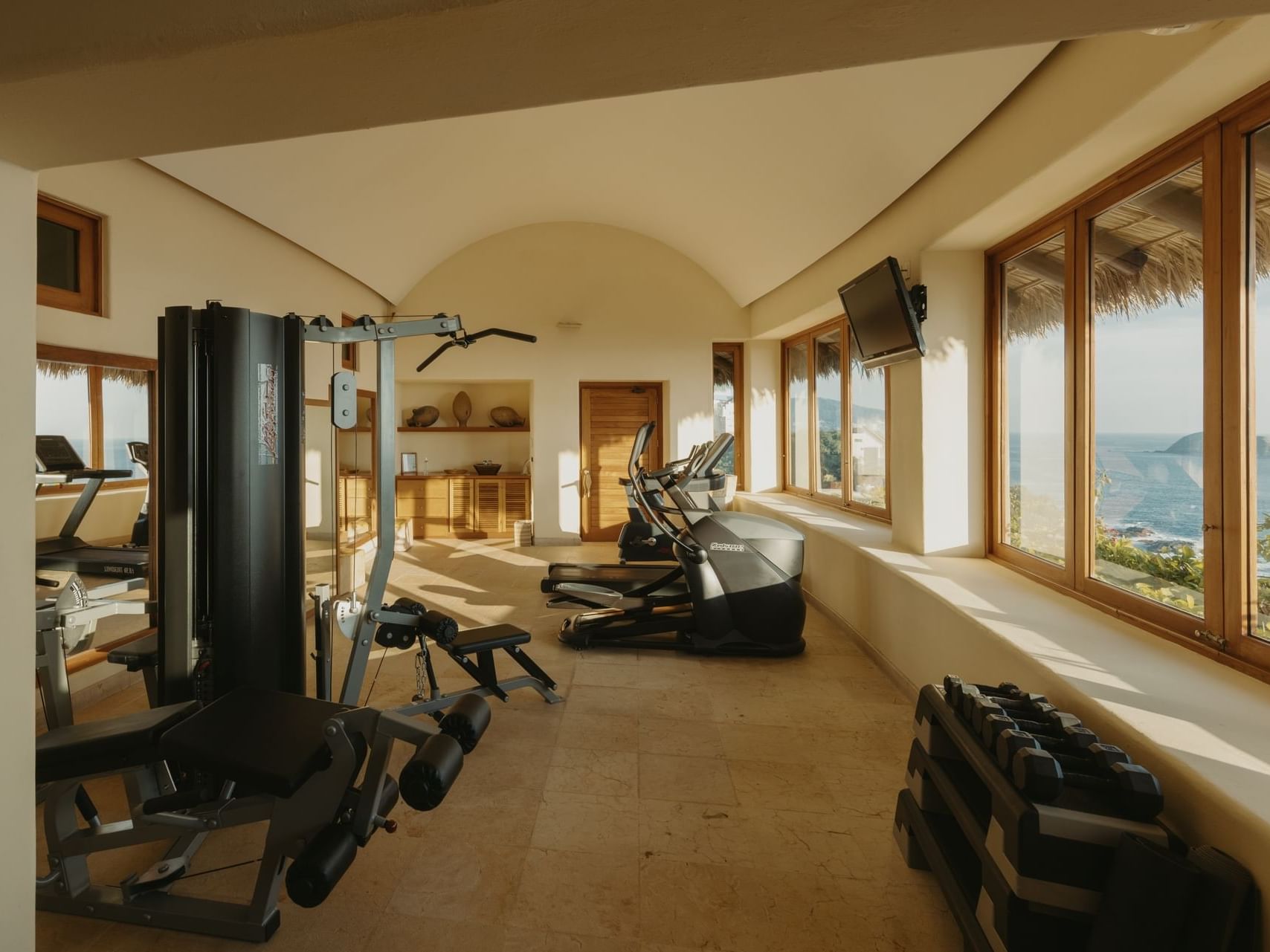 Gym
Our gym is located at the very top of our central building and offers a breathtaking view of the Mexico coast and Pacific Ocean to inspire your workout. The gym at Cala de Mar offers:
Static Bicycles
Elliptical Trainers
Treadmills
Free Weights
Stability Balls
Yoga Mats
Slideshow
Yoga
At Cala de Mar Ixtapa you will find a quiet and relaxing ambiance that is ideal for yoga sessions. Whether you are a yoga expert or a beginner, we offer exclusive routines and exercises with the soothing sounds of the surf crashing on the rocks below. Yoga is offered at the locations listed below:
The Zen Zone
The Private Terrace of Your Suite
The Beach Deck
The Yoga Deck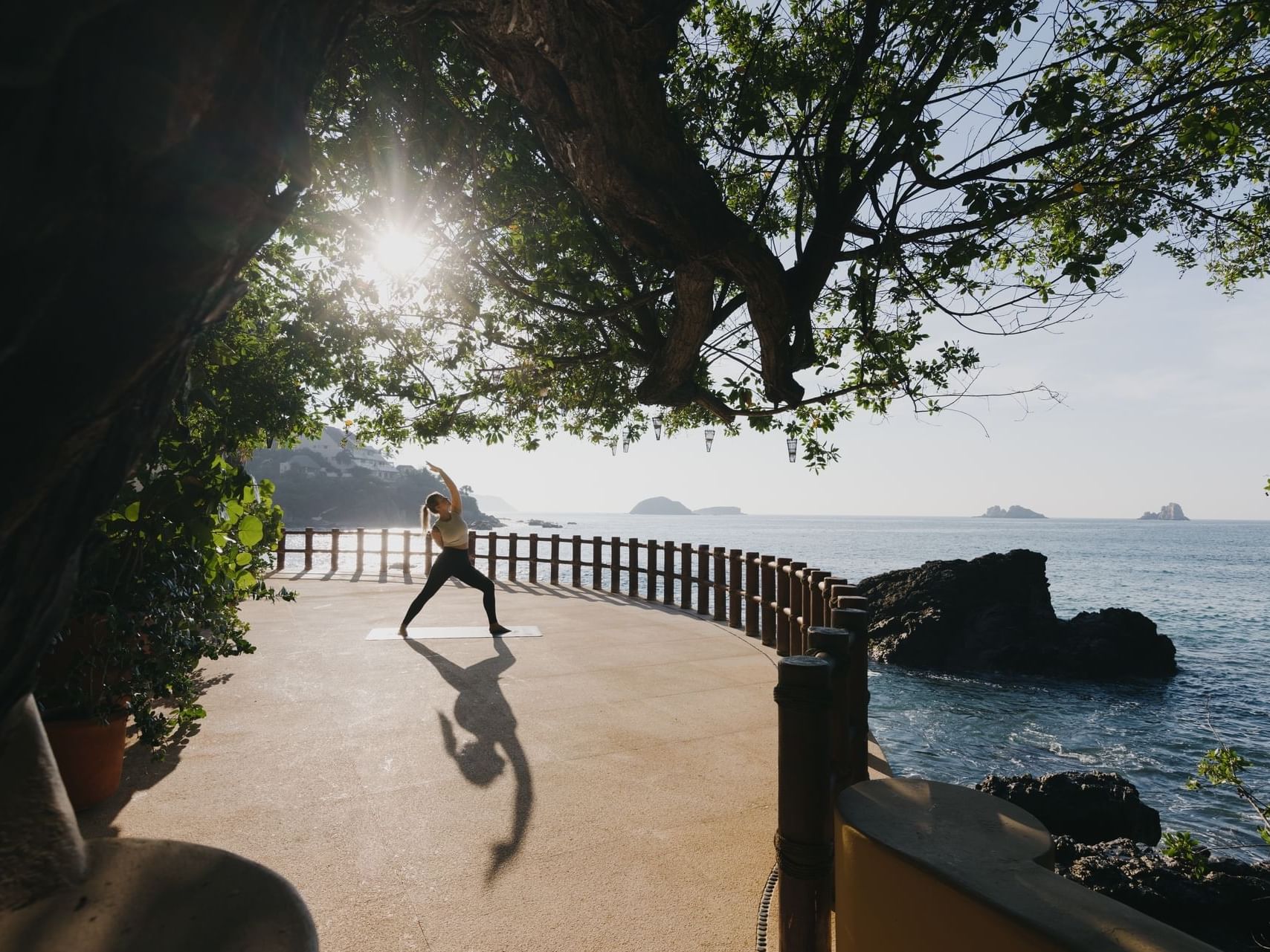 Slideshow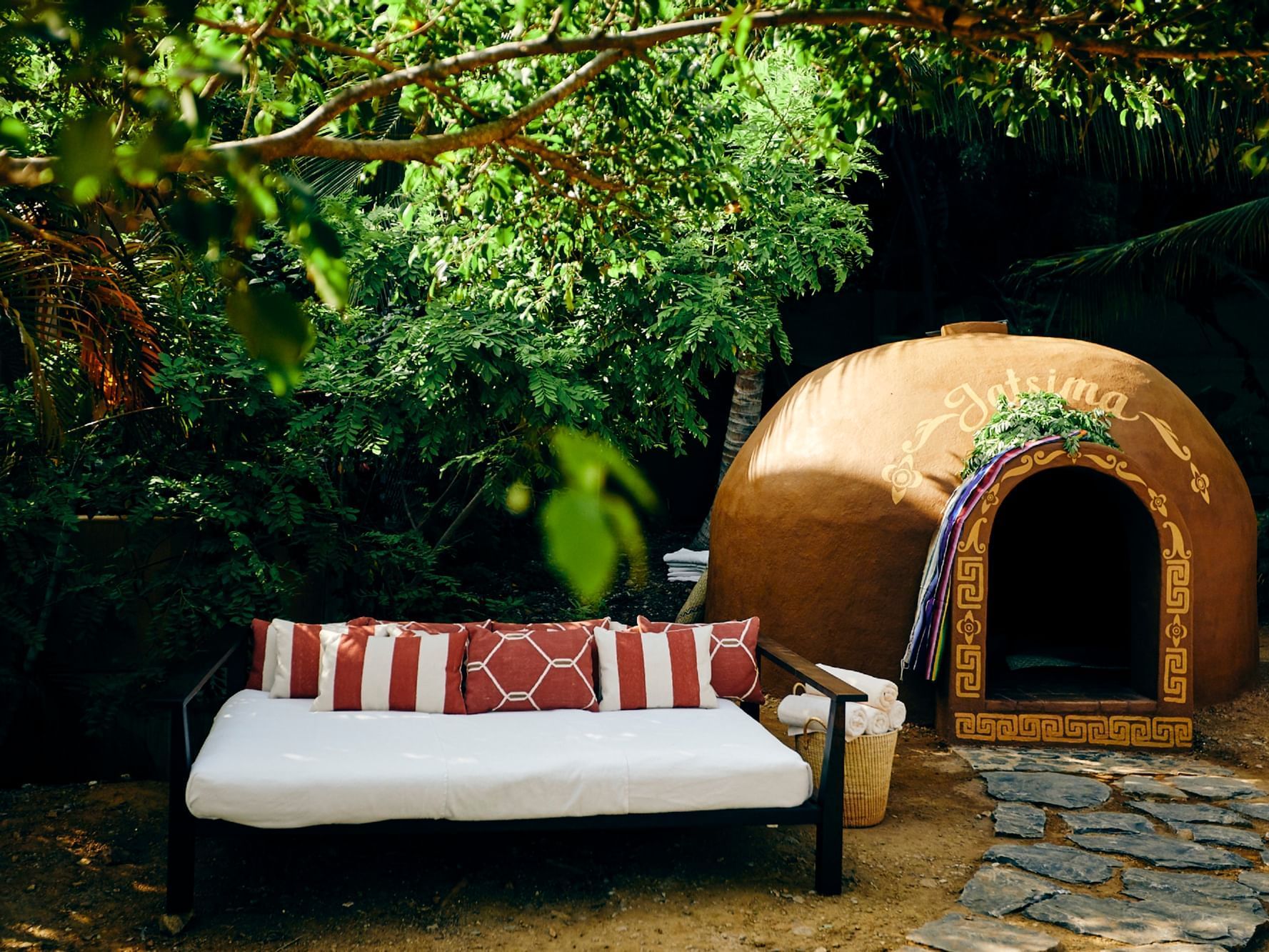 Temazcal
Drawing inspiration from ancient Aztec healing traditions Cala de Mar opened recently a temazcal ([temasˈkal]). Temazcal is a type of sweat lodge in the shape of a circular dome that originated with pre-Hispanic Indigenous people. In ancient Mesoamerica, it was used as part of a curative ceremony thought to purify the body after exertion such as after a battle or a ceremonial ball game. Enjoy the privacy of our very own Jatsima Temazcal dedicated to the Ocean Mother. Book in advance your private Temazcal Ceremony led by a shaman or guide and ... >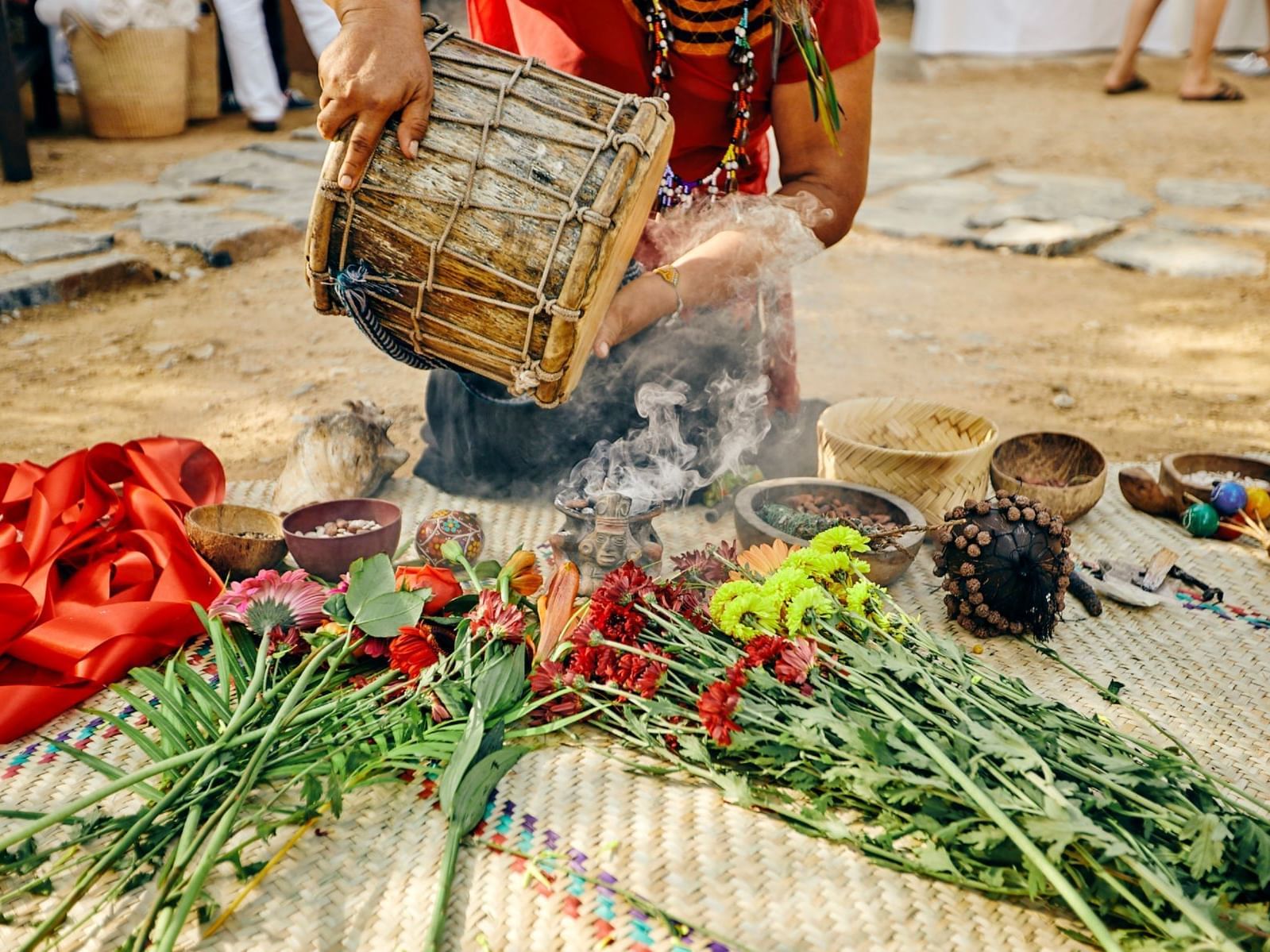 Temazcal
... expect to enter the Jatsima Temazcal sweat lodge where rosemary, basil, lemongrass and other scents organically grown in our garden waft over the steam created by the shaman as he or she will gently throw water over a pile of hot rocks in a pit. You will be kept hydrated with herbal tea and fresh fruit. You are permitted to lie down, walk around, or sit still -- whatever it takes to cleanse body and mind. To close the ceremony you will experience a refreshing shower in a cliffside setting with an ocean view.
​Duration: 2 hours approximately
Slideshow
Zen Zone
The Zen Zone, Cala de Mar's new breezy, open-air space for outdoor yoga and meditation or simply for reading a book provides a serene and intimate area to read, and practice soulful routines and exercises together. Our reading deck is a space for tech detox, reading and meditation. Practice mindfulness close to the sea.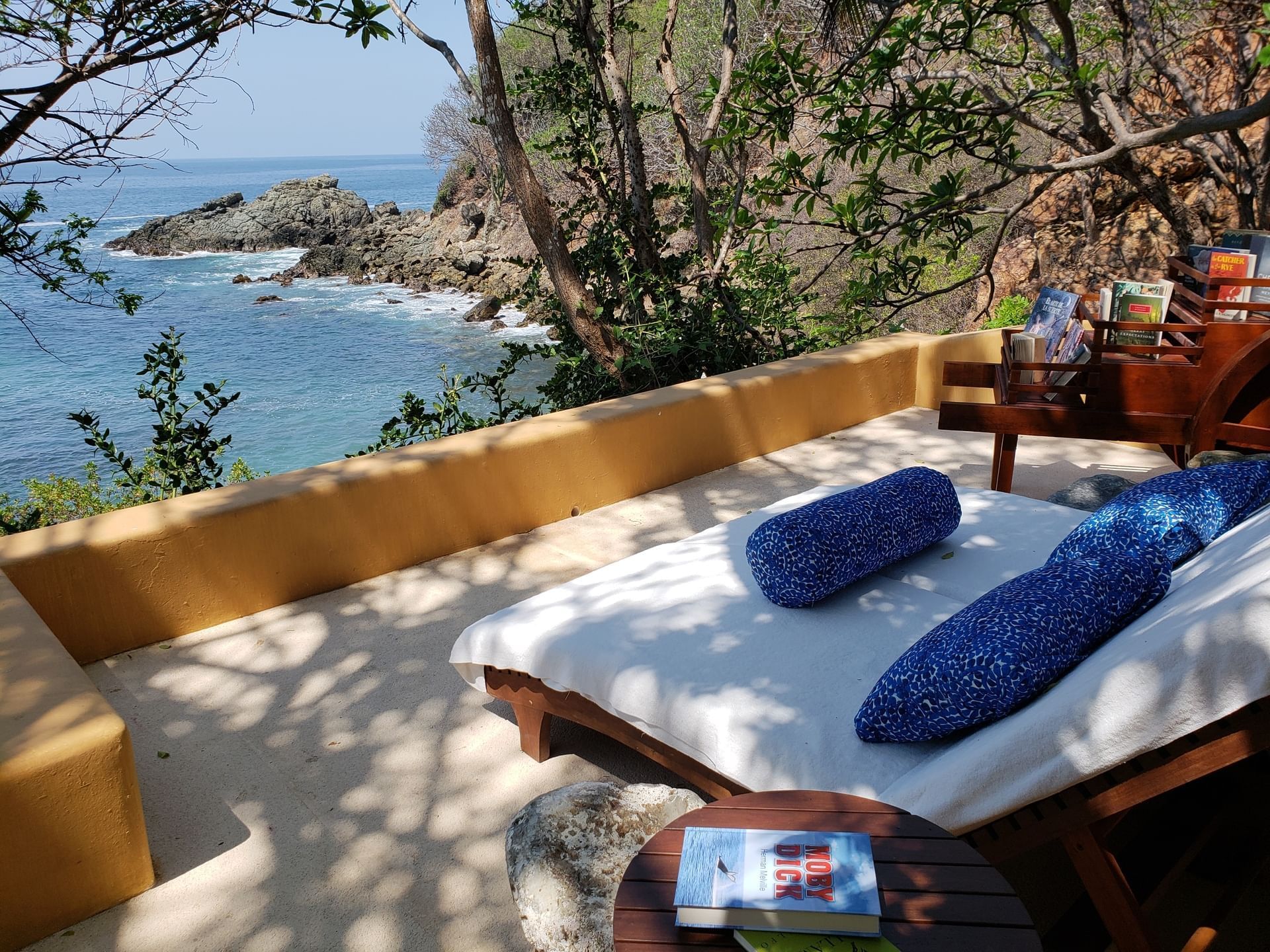 Slideshow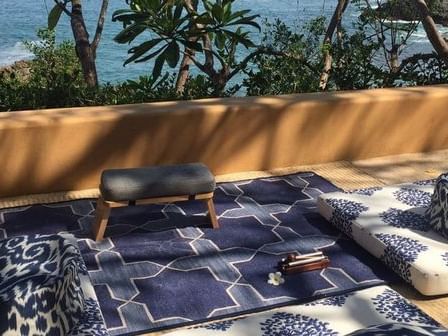 Mindful Meditation
Practice Mindful Meditation at Cala de Mar's Zen Zone. ​Mindfulness is the basic human ability to be fully present, aware of where we are and what we are doing, and not overly reactive or overwhelmed by what is going on around us.
Come to Cala de Mar, and join our Mindfulness sessions to feel better, reduce your stress, and enjoy life a little more.
Slideshow
Bike Tour
Cala de Mar is also reenergizing its wellness offerings as it pertains to physical fitness with a new bike partnership with local artist, Nicolas Peña. A Guerrero native and third generation artist, Peña pulled inspiration from the surrounding vibrant colors of nature in the destination to design one-of-a-kind beach cruisers available for guests to use while staying at the resort. Guests can observe eccentric flora and fauna on a bicycle tour through an ecological and wildlife reserve teeming with crocodiles, iguanas and exceptionally unique bird activity.